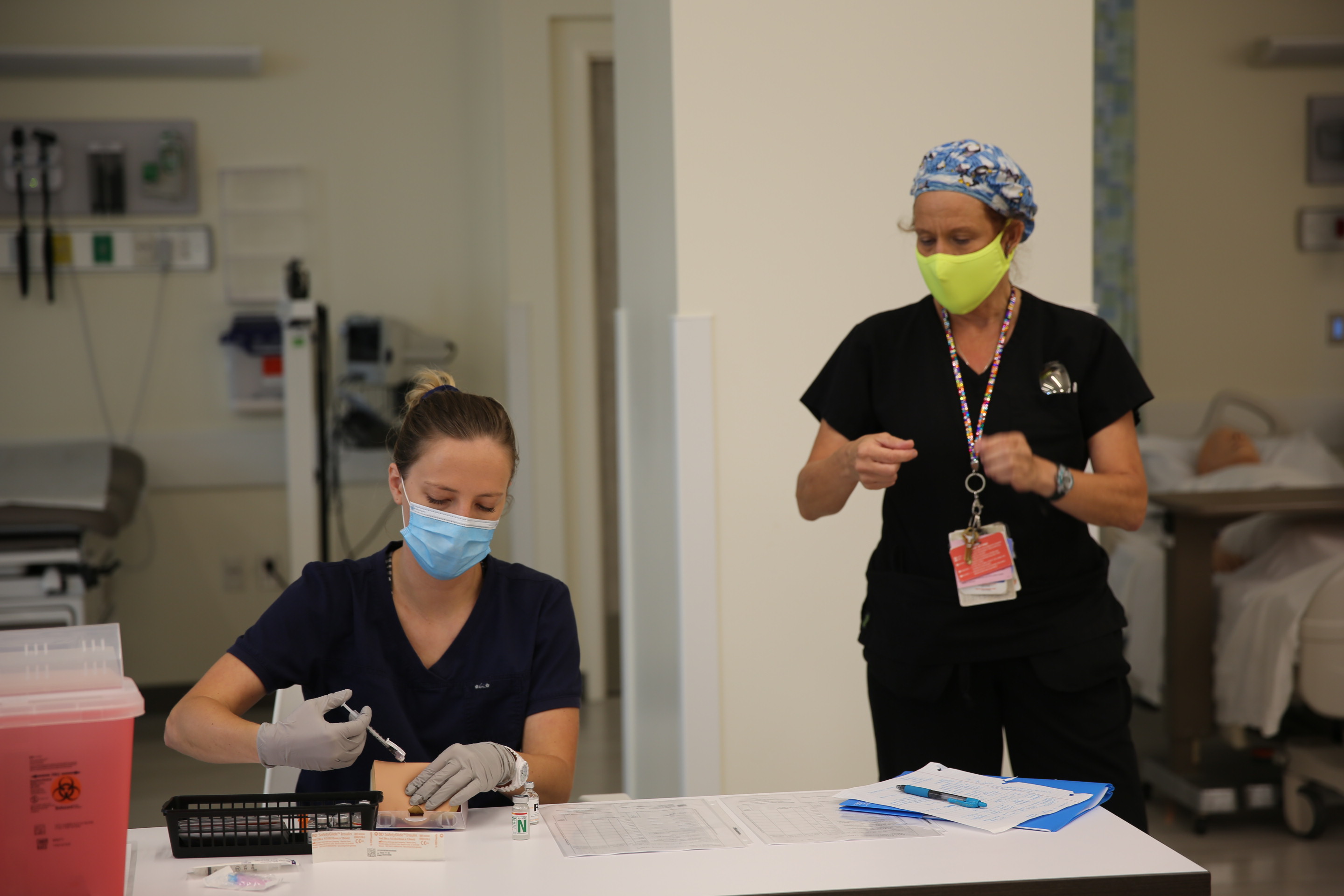 SON faculty member teaches first semester BSN students medication administration skills.
With the recent need to transition mostly online this semester, many elements of our nursing education experience have looked a little different for our BSN students. While the high-quality education and faculty commitment to student success are constant, learning tools like videos, online simulation modules and other remote education platforms have taken on a greater role than before.
When it comes to some skills, however, there is no substitute for in-person learning. That's why SON faculty and staff carefully coordinated an on-campus skills lab experience that would allow first-semester BSN students to practice, demonstrate, and master their medication administration skills on campus this summer with safety as a number one priority.
Nursing is a hands-on profession. It is an expectation that nurses are competent in their skills along with having a strong knowledge base to care for patients, says Assistant Professor Carol Glaze, who teaches Adult Health I (NURS 3631). Hands-on lab practice builds knowledge and confidence in nursing students. It promotes an environment of safe practice where learning is optimized.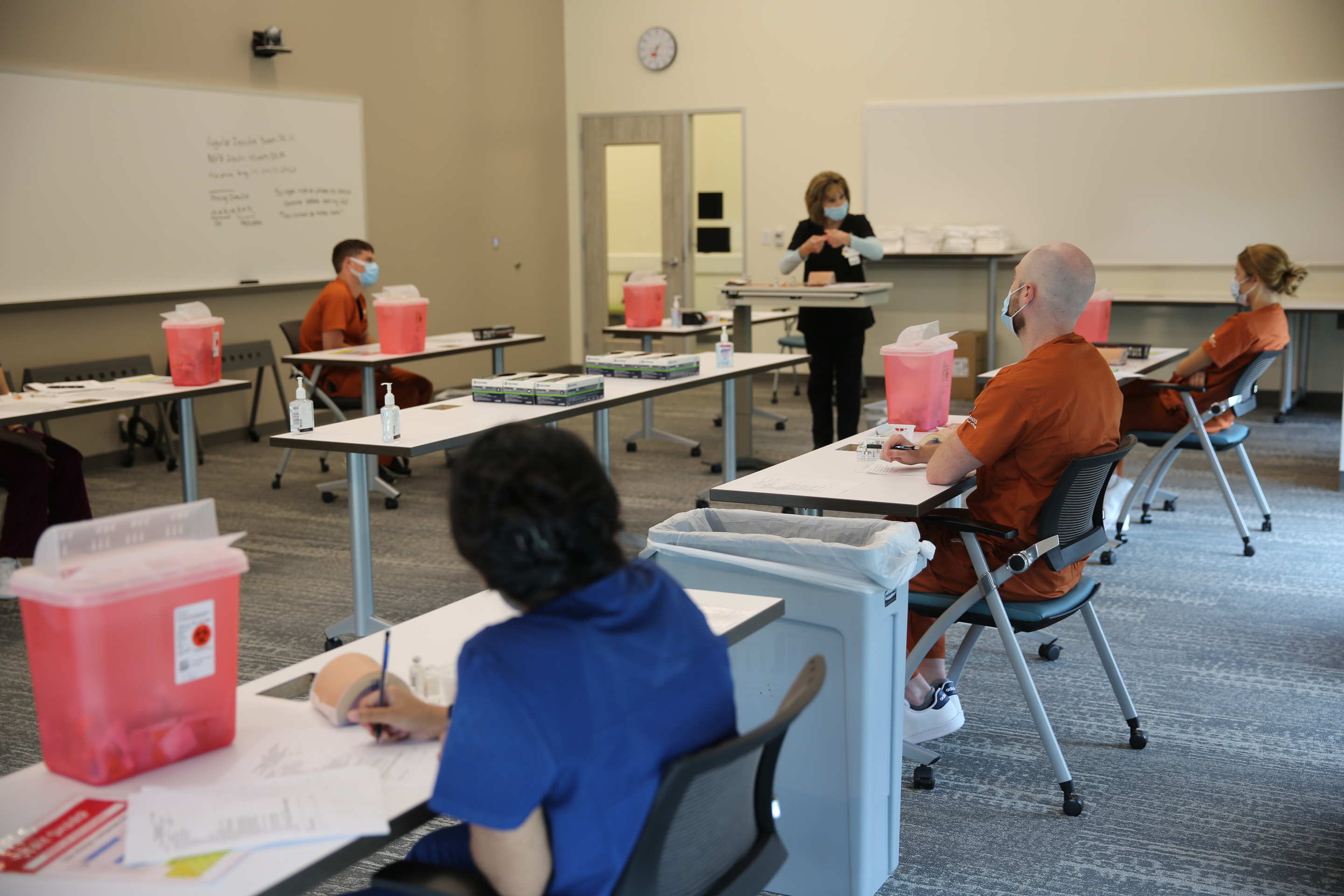 SON faculty member teaches first semester BSN students medication administration skills.
Prior to the pandemic, these skills activities were incorporated into a three-hour weekly scheduled lab experience for the course. Students would practice over several weeks in small groups in the lab, while faculty circulated to assist and offer corrections. Many skills validations would take place over two consecutive weeks.
Closely following UTMB's COVID-19 guidelines, this summer's activities were planned within a two-to-three-day window for students to be on campus. Modifications helped ensure the lab was conducted as safely as possible. For example, only 10 individuals could be placed in the large skills labs, versus the typical 25 to 35. Support staff also were on hand to help to screen students, making sure that no one entering the lab reported symptoms or exposure.
For the students, all the additional planning and measures taken were worthwhile. Videos demonstrating virtual skills and online simulation activities have helped them stay motivated to practice their skills at home and become more confident, but students said they benefited greatly from visiting campus, working alongside their peers and teachers, and getting to practice in UTMB's state-of-the-art facilities.
We were able to practice in front of our professors, who gave us valuable feedback in order to continue to improve, student McKenna Namken said. We were also evaluated in a way that simulated a real-life scenario with our professors asking us questions like actual patients would.
It was also the students' first chance to meet many of their classmates and faculty in person — something that made the experience even more valuable.
SON faculty member teaches first semester BSN students medication administration skills.
It felt amazing to come to campus for the first time and finally meet the people I'd been learning with and learning from! The SON has done an amazing job with the virtual learning, but nothing beats seeing people face-to-face, student Angela Madoux said.
Glaze said it was also an important learning experience for her as an educator, as she is seeing the benefit of delivering information to students in a variety of formats.
The hybrid format has allowed the NURS 3631 team an opportunity to consider many new learning activities that previously had not been considered or implemented. It will affect how we plan for future course activities, she said.
The students who participated say they are looking forward to the continuation of their education. Before starting school, Namken says she spoke to many UTMB SON grads who loved their time at UTMB and felt the school truly prepared them for their careers. She is excited for the opportunity to develop her skills further and hopes for more in-person experiences like this going forward.
Madoux also entered UTMB SON with high expectations for her education, and feels reassured by the investment the school has shown in her success.
We aren't just a number or a face in the crowd, she said. The SON, my professors, my advisor - they really care, and it shows in their accessibility and the ways they teach and reinforce concepts of nursing.