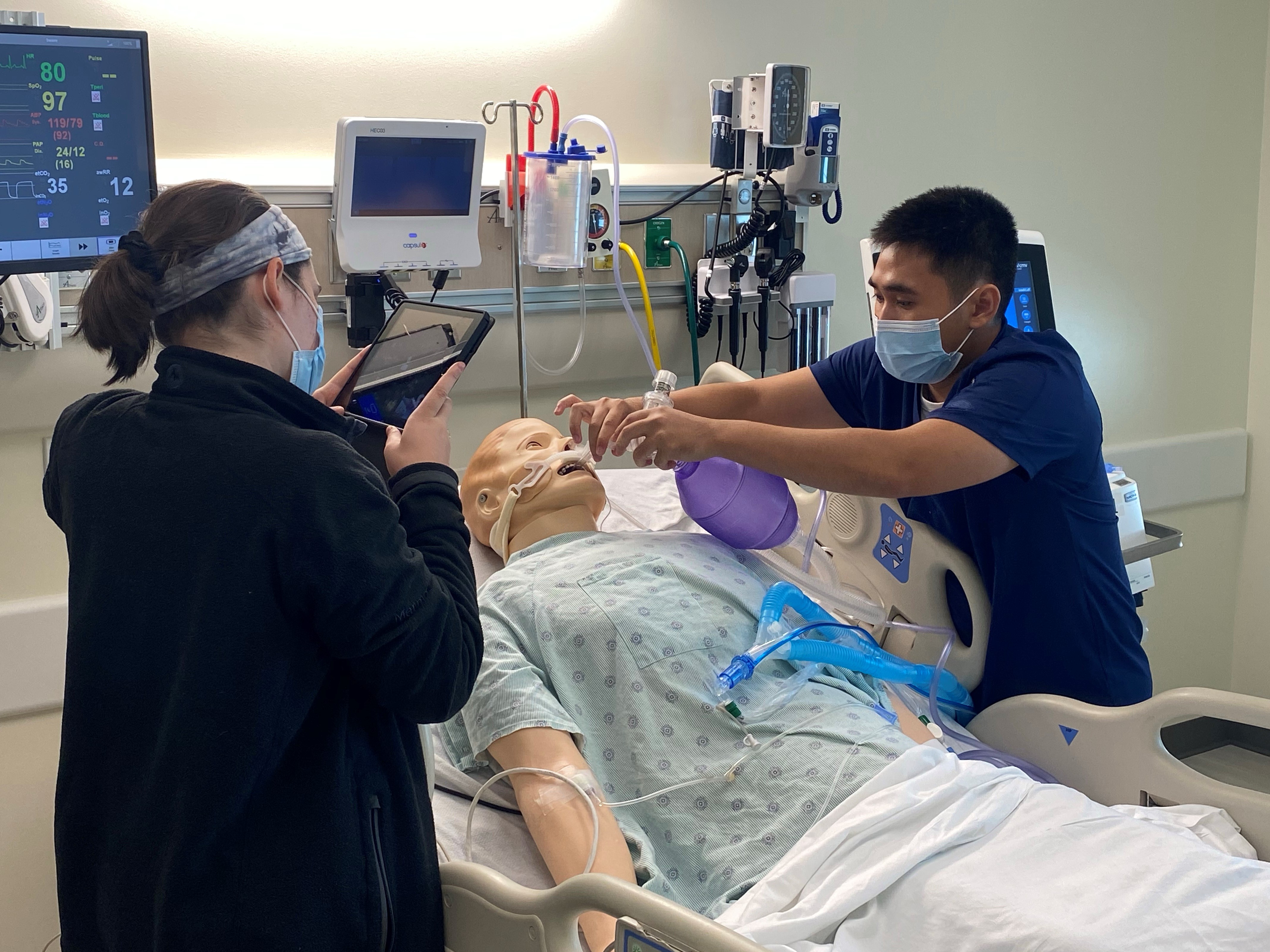 With a wide variety of disciplines represented on campus, opportunities for interprofessional education (IPE) at UTMB are endless. But as the COVID-19 pandemic has changed the way group activities can be held, educators have gone the extra mile to keep interprofessional training from falling by the wayside.
Dr. Chris Edwards, Dr. Roy Trahan, and Mrs. Morgan Cangelosi, faculty at the School of Nursing (SON), recently led an IPE activity for BSN students in their Adult III class, in collaboration with the School of Health Professions' Department of Respiratory Care. The goal was to familiarize BSN students with aspects of respiratory care encountered in critical care areas, such as non-invasive and invasive ventilation, airways, and oxygen delivery.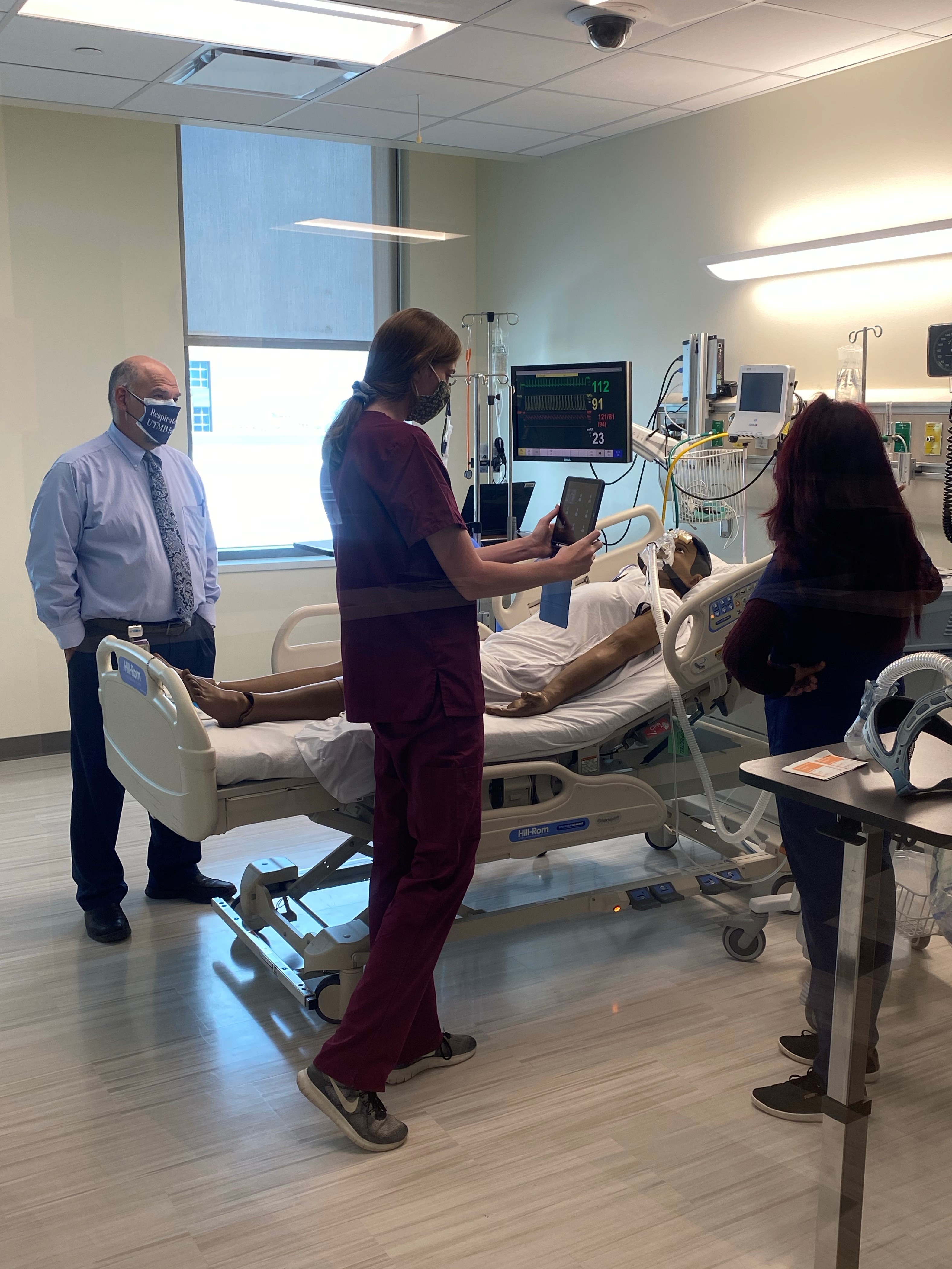 In the fall, we started working with Respiratory Therapy to create an IPE activity between the two schools, Edwards said. It gives the RT students, with a faculty member present, the opportunity to practice teaching about ventilators, and it allows our students to see the various ventilators before going into the clinical setting. It also reinforces material from lectures.
Ms. Melissa Yanes, Director of Clinical Education in the Department of Respiratory Care, was the department's lead on the activity. This activity helps our students build on their communication skills and allows them to share their knowledge and experience with nursing students, she said.
Under normal circumstances, the Respiratory Care students would rotate through senior nursing class simulation activities. Since the COVID-19 pandemic began, however, group size and time constraints forced the faculty members to think creatively in order to preserve this learning opportunity. They came up with a plan that allowed just as many students to participate, while prioritizing social distancing and safety.
​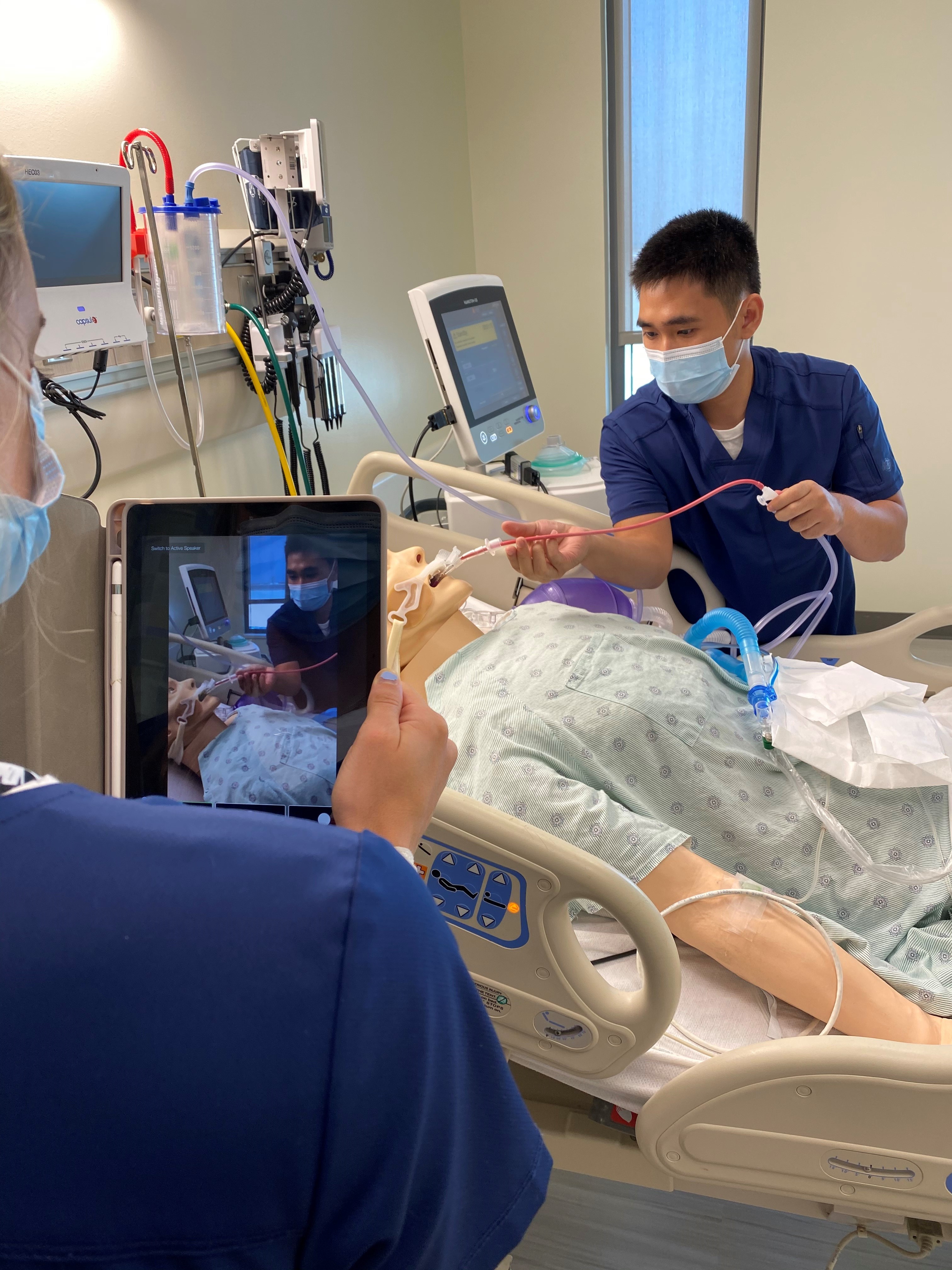 Twelve students of the 119 enrolled in the final senior nursing semester visited campus to participate in person, while the remainder did so remotely. Meanwhile, 21 senior-level Respiratory Care students served as facilitators, demonstrating the use of respiratory care equipment with simulated patients. Using their iPads, the nursing students walked through the stations and broadcast the activities to their classmates, who were connected via Zoom in breakout rooms.
Students could still interact with RT students, RT faculty, and SON faculty to get clarification on concepts or to even ask for a different view. We also had an MSN nurse education student and a BSN-PhD education student there helping us, so they could get their teaching time for the various Education Tracks, Edwards said.
Amy Hughes Childs, who will graduate with her master's degree with specialization in the nurse educator role in December, appreciated the hybrid online/in-person format and the opportunities it presented to her as a future educator. She also felt encouraged by the students' level of engagement.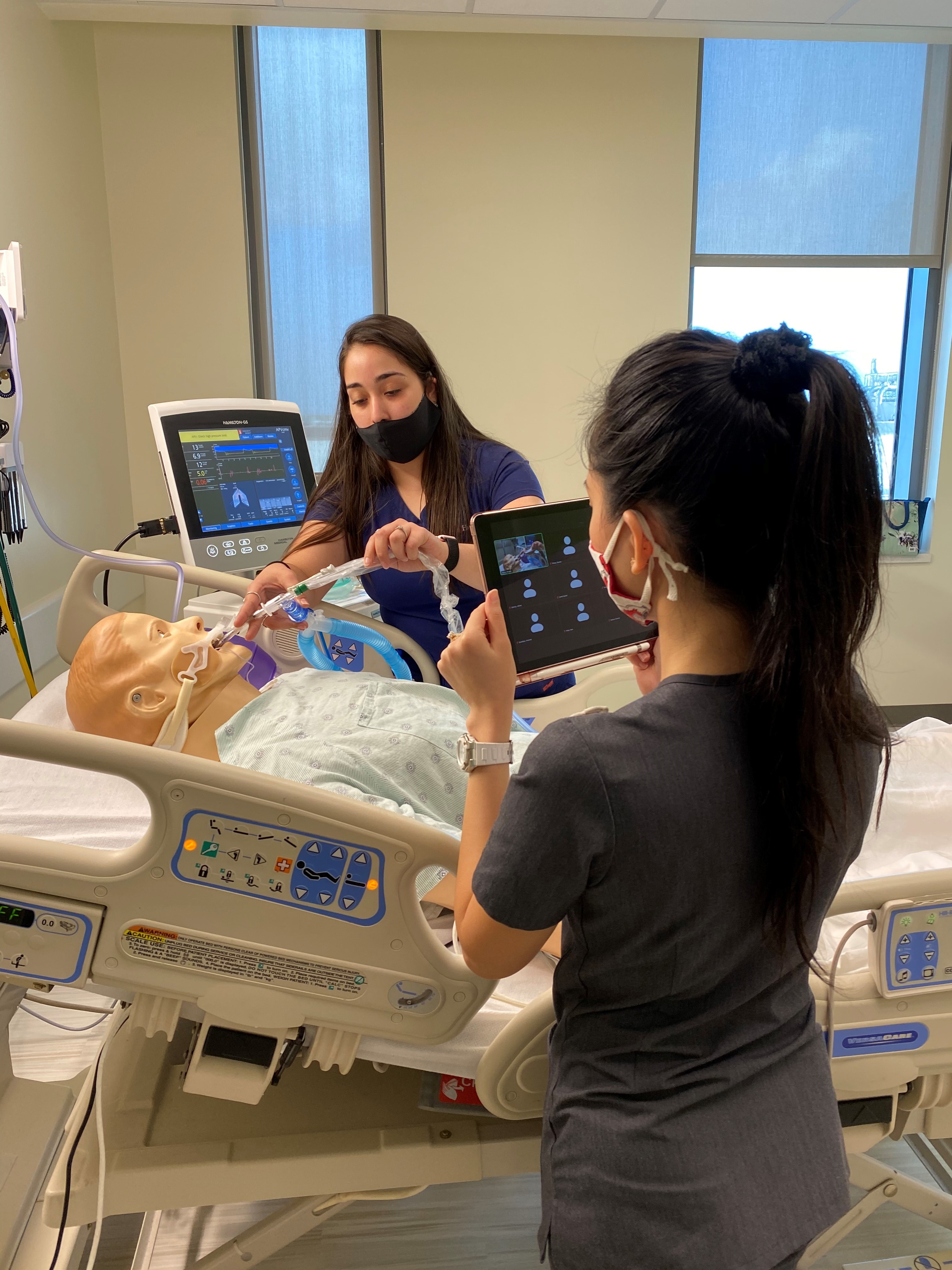 As a nurse educator, activities like this are extremely beneficial to future endeavors. With the current pandemic situation and the actual unknown, being able to think out of the box and deliver quality education is exceptional, she said. The steps are being made to keep everyone connected to ensure delivery of high-quality education and advanced training.
Ms. Yanes and Dr. Jose Rojas, department chair, said that the Respiratory Care participants also benefited from being challenged to teach both in-person and remote learners effectively. Rojas likened the experience to what patients must navigate as telemedicine encounters become more prevalent.
Many of our educational meetings are now being held virtually, and the nursing and respiratory care collaborative provided an opportunity to experiment with various technologies available. (It gave us) a good practical experience in advantages and limitations of the technologies, Rojas said.