SON News Articles
Jill Bryant–Bova wants to be a leader in health care. That desire has motivated her not only to pursue advanced nursing degrees, but to seek opportunities where she can apply both her leadership skills and her passion for service.
A graduate of the MSN Executive Nurse Leader program and current DNP student at UTMB School of Nursing, she recently served as a lead supervisory nurse for a COVID-19 vaccination site in Buffalo, NY, as a member of the Texas–3 Disaster Medical Assistance Team (DMAT).
The Texas–3 DMAT is a branch of the National Disaster Medical System, which is part of the U. S. Department of Health and Human Services. The team deploys to locations across the United States to fulfill a wide variety of medical needs as they arise, from natural disasters to major special events.
During her deployment to Buffalo, Bryant–Bova worked 12- to 13-hour shifts every day, overseeing vaccinators who administered first and second doses of the Pfizer vaccine to community members. She also helped distribute and administer vaccinations herself. In the end, the team was responsible for more than 10,000 vaccinations over two weeks, with Bryant-Bova working about 180 hours in that period.
It's fulfilling to go out there and work, Bryant–Bova said. You are out there to help people – that's what it's all about.
Bryant–Bova credits both the UTMB Executive Nurse Leader and the Doctor of Nursing Practice programs for providing the foundational knowledge she needed to lead in these deployments – from leadership skills to the importance of good communication with the individuals being vaccinated, some of whom were nervous and needed reassurance.
I love talking to people, so it was nice being able to talk to so many people and relate to them. They were so thankful and appreciative of what we were doing., she said. We had great conversations.
The deployment to Buffalo is only the latest for Bryant–Bova, who works at UTMB as a Senior Quality Management Specialist and is president of the SON Alumni Association. She has been a part of the Texas–3 DMAT since 2003, and her deployments have included the Hurricane Katrina response in New Orleans, the funeral of former President George H.W. Bush, and the second inauguration of former President Barack Obama, to name a few.
Bryant–Bova says she is proud of her membership in the Texas–3 DMAT and the work she has done in her deployments. The School of Nursing is honored to count her among our alumni and current students.
The hands-on experience that students obtain in the BSN program is a critical part of their training. Spring 2018 graduate Kourtney Derouen knows this well. As a member of her hospital's Hurricane Laura ride-out team in southwest Louisiana, she drew on all her skills to ensure her patients' safety.
Being a part of the ride-out team during Hurricane Laura was an experience like no other. You train and go over protocols for what to do when disaster strikes, but it is nothing compared to the real thing, Derouen said.
Derouen is an RN on the cardiac/telemetry floor at CHRISTUS Ochsner St. Patrick's Hospital in Lake Charles, an area left devastated in the storm's wake. Working collaboratively with colleagues from all areas of the hospital, she was committed to help keep patients safe throughout the harrowing ordeal.
Although a hurricane of Laura's magnitude is a unique experience, Derouen had a strong educational foundation to prepare her. A native of Orange, Texas, she chose UTMB after speaking with several BSN program alumni who gave high recommendations. She also appreciated that many of the clinical training sites are in the Texas Medical Center, where there would be opportunities to work on and learn from a wide variety of cases.
My education at UTMB prepared me for this role by providing that core foundation of nursing knowledge and skills, Derouen said. Obviously there is still a lot to be learned in your first job as a graduate nurse, but the education I received from UTMB helped make it an easy transition from student to practicing nurse.
Now that Derouen has been in her professional role for a while, she looks back on nursing school recognizing the experiences that have been most valuable to her in her career. She encourages those who are entering nursing school to take advantage of every learning opportunity that comes their way.
Be as hands on as you can in your simulation labs as well as clinical rotations. Don't be afraid to speak up if you need extra practice or to ask to perform a skill in clinicals, she said. Every experience you can get while in school and in clinicals will help you that much more with your first real nursing job.
UTMB School of Nursing is extremely proud of our alumni who are working hard on the front lines against COVID-19. Loan Do, who graduated from our BSN program in Spring 2019, recently shared her experience working in one of the areas hardest hit by COVID-19, New York City. We are thankful to Loan for her commitment and dedication to serving patients, and for allowing us to share her impactful story.
---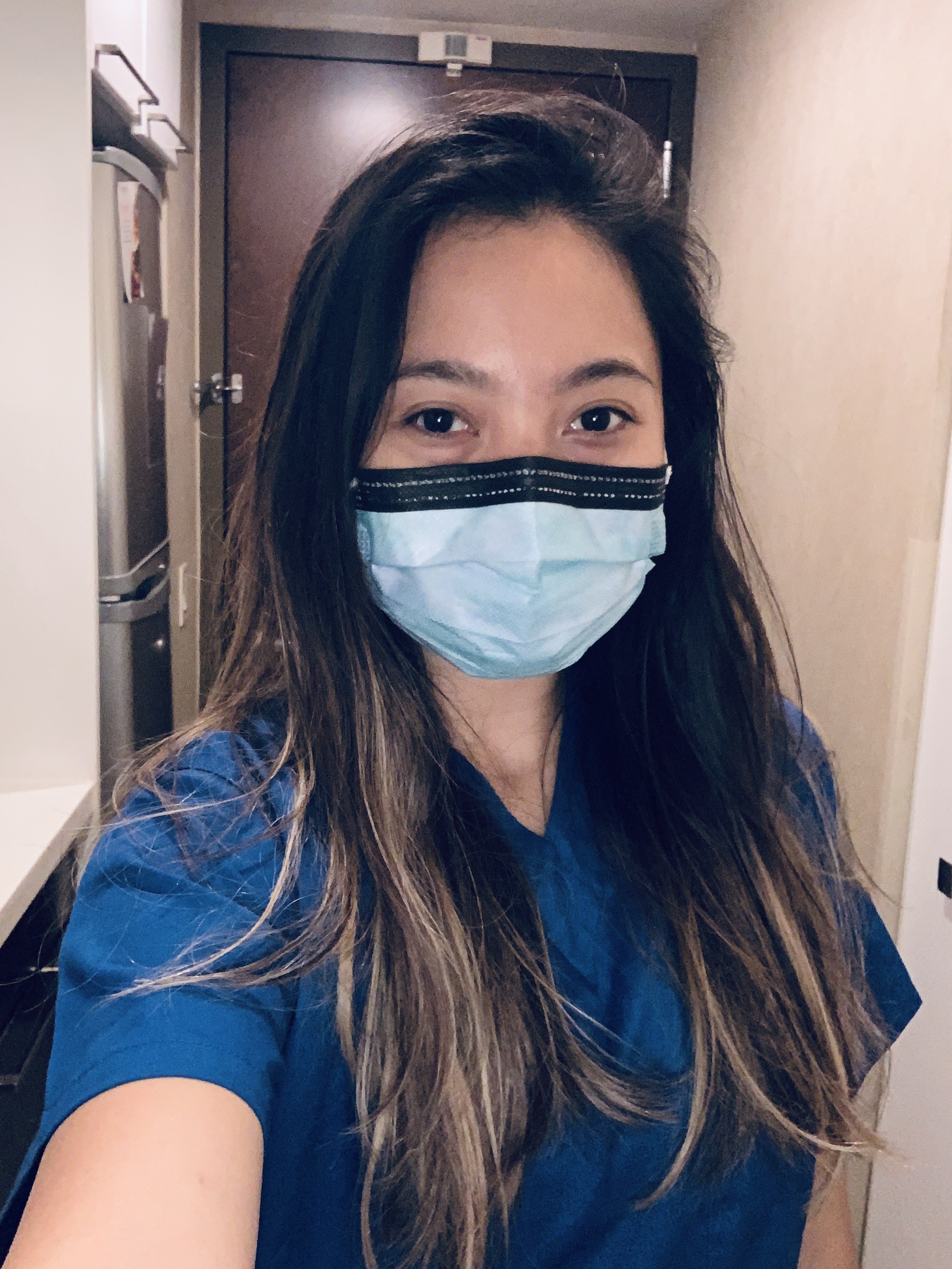 Loan Do, 2019 BSN Graduate
On a Saturday afternoon in March, I took a huge leap of faith by making the decision to go fight as a front-line nurse in the city that needed my help the most during this pandemic. New York City was being hit hard by the Coronavirus with deaths rising every day. The health care system was overwhelmed and overworked as the patients were flooding into the emergency department and intensive care units.
Before this travel assignment, I was an ICU nurse in the Texas Medical Center with 8 months of critical care experience. Making the decision to go to New York wasn't hard, because I knew I was called to do this. I knew that this experience was going to help make a difference, even if it was a small one. Doing this was important to me because I knew that this city needed my help and my sacrifice. My first week in NYC was one of the toughest weeks I have ever experienced while being a nurse. I came home every night with a heavy heart and most days, it felt as if doing my best wasn't ever going to be enough. It was getting harder to see the light at the end of the tunnel. Was this ever going to get better? When will this pandemic end? How many people have to lose their lives to this deadly virus?
I was working at one of the hospitals that was hit the worst, and I could vividly remember the week when the outbreak was peaking. The ICU nurses were taking care of up to 7-10 patients when normally, the nurse to patient ratio is ideally 1:2 in the ICU. Units that were originally outpatient clinics or Med/Surg floors were being converted into makeshift COVID19 ICUs. Within a short amount of time, the world turned into something you would see in a movie... it was pure chaos in the hospitals. The city that never sleeps turned eerie- no one on the streets, all the stores were closed, and Times Square was empty.
I graduated from The University of Texas Medical Branch in Spring 2019. It's ironic how I ended up taking care of critically ill patients at the epicenter of this pandemic, because being an intensive care nurse was not even on my radar whenever I started nursing school. I thank UTMB School of Nursing, along with all the clinical experience it has given me to open my eyes to the world of opportunities. It guided me to do what I'm most passionate about- critical care.
More than ever, I am so proud that I have chosen this profession and that this profession has chosen me. It truly is a beautiful thing when you can say that your career and passion come together. I have to say, it isn't always beautiful and glamorous. There were countless moments where I couldn't hold it together anymore and would fall apart on the bus ride home, in the medication room, or in my hotel room. There were moments where I had to hold it together for patients and their families during the last FaceTime call or during post-mortem care because there were six other patients that still needed my focus, attention, and energy afterwards. I had skin breakdown on my nose from wearing an N-95 mask for over 14 hours each day for 21 days straight and dry cracks that bled on the back of my hands from washing and sanitizing them so often. Despite the challenges, I don't regret this experience one bit, and I would do it all over again.
This experience not only helped me grow as a nurse, but it also humbled me. Saying it has challenged me physically, mentally, and emotionally is an understatement. With that being said, I am inspired and honored to have worked with so many other nurses and essential workers who empowered me. I am uncertain of what the future holds, but I know that it's important to take things one day at a time and eventually, we will realize all this hard work was not in vain. Thank you to all of our health care heroes who continue to fight in the front lines every single day. To all the nurses who selflessly choose to come to work to take care of others during this tough time, don't give up- we're all in this together.