SON News Articles
iLead program recognized for innovative use of iPads by BSN students
The University of Texas Medical Branch at Galveston School of Nursing (UTMB SON) has been recognized as an Apple Distinguished School for 2021-2024. The nursing school's program called iLead (Innovative Learning Environment Accelerating Discovery) was recognized for innovation in learning, teaching, and leading with technology in the classroom.
Apple Distinguished Schools qualify as centers of innovation, leadership, and educational excellence. These schools use Apple technology to connect students to the world, fuel creativity, deepen collaboration, and make learning personal.
Recognition of UTMB School of Nursing as an Apple Distinguished School highlights our success in creating an innovative and compelling learning environment that engages students and provides tangible evidence of academic achievement, said Dean Deborah J. Jones, PhD, MSN, RN. Delivering high-quality education is essential to our success, and iPad technology keeps everyone connected.
At orientation, Bachelor of Science in Nursing (BSN) students are issued an iPad and Apple Pencil. Faculty members – most of whom are Apple Certified Teachers – employ Apple technology to engage the students in project collaborations, presentations, course assignments, simulation labs, and research activities in the BSN Traditional curriculum. Additionally the Apple technology is used to facilitate simulated clinical practice settings.
Our experience demonstrates that one-to-one iPad implementation facilitates students' active learning and empowers innovative pedagogy for educating future nurses, said Chair for Undergraduate Studies Patricia Richard, PhD, RN.
The power and immediacy of the iPad technology enhances students' engagement and encourages critical thinking in a manner equally accessible to all students.
More than 1,100 iPads have been distributed since iLead began in summer 2019, and students have reported that the iPad has been a positive addition to their learning experience. Having access to the iPad helped me better organize my notes and textbooks onto one device, saved me money by purchasing e-versions of the textbooks instead of paper copies, and really transformed how I utilize technology for learning, said Daniel Frost, 2021 BSN graduate. Before coming to school here, I had never used an iPad or tablet. I appreciate the efforts that everyone at UTMB has put into implementing this technology initiative.
UTMB School of Nursing has a tradition of embracing new educational technology, Dean Jones said. In fact, the graduate program began using iPads to facilitate clinical site visits. Sheba Luke, DNP, MSN, RN, assistant professor in our Department of Graduate Studies, confirms that the use of FaceTime to evaluate the progress of our nurse practitioner students in their clinical sites is an innovative method utilizing this technology.
Faculty observe the students via FaceTime on their iPads as the student performs a history and physical on a patient in their clinical setting along with their preceptor. This method proved to be an effective and efficient way to evaluate student clinical progress virtually versus in-person, said Luke.
The use of a videoconferencing platform for virtual clinical site visits provides the student an introduction to the concepts of telehealth as technology and information literacy is one of the nurse practitioner core competencies. The ability to be innovate and proficient with the use of technology is a necessary skill to develop for future health care providers.
We look forward to expanding iLead throughout the curriculum and further implementing innovative ideas for teaching and learning, said Dean Jones. The Apple Distinguished Schools program is by invitation only for accredited public and private schools that meet the program qualifications and eligibility requirements. Recognition is for three years, with an opportunity to be invited to continue in the program.
Read more about UTMB SON's iLead program HERE.
The combination of Dr. Kathleen Murphy's professional experiences, education, and passion for equity and inclusion have uniquely prepared her for her new role at the UTMB School of Nursing.
Dr. Murphy joined the UTMB School of Nursing faculty in 2012 as administrator of the Executive Nurse Leader Track in the Department of Graduate Studies. However, leaders and peers quickly recognized that her training, leadership, and passion for equity and inclusion is threaded through all she does, both personally and professionally. She now serves as Associate Dean for Inclusivity, Global Health & Community Engagement and holds the Alice O. Stubblefield Professorship in Nursing.
Trained as a nurse practitioner and currently a board-certified, advanced nurse executive, Dr. Murphy has an extensive background in family, school, and public/community health issues, particularly among historically excluded populations. She has served the community in a variety of clinical and leadership roles locally, regionally and internationally. She is an alumna of the prestigious Robert Wood Johnson Executive Nurse Fellowship (2004-07) and is a Fellow of the American Academy of Nursing (FAAN).
I feel enthusiastic and grateful to be in this role, says Murphy. I grew up in a family that instilled and lived the values of compassion, community and to whom much is given, much is required --values I have carried throughout my life and into this role. They are a constant reminder of her purpose.
She recognizes the positionality of privilege and it's significant opportunities, and is committed to ensuring that historically excluded or underserved persons have opportunity equity. She understands that her position as a nurse and a leader can shine a bright light on inclusion and equity issues in healthcare, policy, and education.
The role of true equity and inclusion work is not a checklist. Trying one's best to live by these principles daily demonstrates a personal commitment that extends to the professional domain. It is not a title in a signature, it is about the actions you take, says Murphy. We live in the most diverse metropolitan area in the country, and we must commit to employing and educating a work force whose diversity mirrors the populations we serve.
In addition to this role, Dr. Murphy is currently searching for an Assistant Dean of Diversity, Equity, and Inclusion (DEI) to increase the school's capacity to support this priority and DEI initiatives.
We must allocate necessary and sufficient resources to equity. We need to truly instill a culture of inclusion… it has to be something we look at every single day: through committees you serve on, the language you use, reframing terms and concepts to students, ensuring holistic admission practices, using implicit bias checklists on curriculum, etc. The Assistant Dean will serve as a change agent, thought-leader, influencer and subject matter expert on diversity, equity and inclusion related issues.
When asked about how this work seems to ebb and flow depending on the political and social climates, Murphy responded with a strong desire to keep going. The challenges in moving this work forward are nothing compared to the challenges of those who have been most adversely affected by exclusion and inequity.
Murphy also leans on research to demonstrate why diversity is important for team success.
The most diverse teams are the nimblest teams, Murphy said. These teams are more likely to respond quickly, hear divergent opinions, participate in constructive conflicts, have robust discussions, that ultimately lead to better outcomes in the workplace. Without diversity, we won't be on the leading edge of where we need to be.
If anything has taught us that we need to be flexible, adaptable and nimble, it's the last year, she said. But on top of the pandemic, creating a diverse team is just the right thing to do.
I have no doubt that Dr. Murphy is the right person for this role, says Dean Deborah J. Jones. Her vision will continue to guide our school and community in the right direction. She advances strategic partnerships locally, nationally, and internationally, constantly applies an equity framework and pursues opportunities to implement innovative solutions to health disparities. We appreciate her leadership and strong guidance for our school.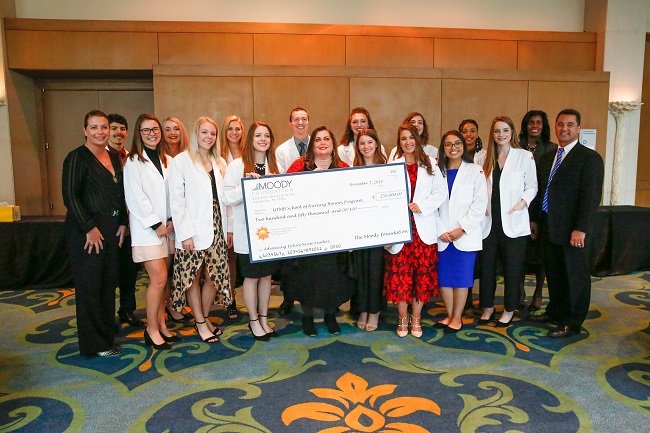 Haute couture and health care may seem like an unlikely pairing – until you speak to the passionate supporters of UTMB School of Nursing's Holiday Style Fashion Show and Luncheon. Fashion and philanthropy drive the success of the annual fundraiser for the school's BSN Honors Program, supporting soon-to-be nurses who will deliver outstanding patient care.
Students who enter the BSN Honors Program are top performers who go above and beyond to become leaders in their field. The education they receive at UTMB will prepare them to fulfill a critical role in patient care, touching countless lives: their future patients, those patients' loved ones, the next generation of nurses whom they will someday mentor, and so much more.
The 2019 Holiday Style Show raised a record amount of funds for our BSN honors program and the leadership opportunities that it provides. This year, an unexpected gift from local philanthropic organization, the Moody Foundation, will help support the BSN honors program over the next few years. The Moody Foundation's generous gift to support our high-quality curriculum will ensure our future nursing professionals have the best educational experience.
Voted as the most trusted profession in the United States for the 20th year, the School of Nursing takes great pride in the students and faculty that we educate, elevate, and employ to create and contribute to the nursing profession. Thanks to our generous donors, strong alumni, successful students and incredible faculty, UTMB School of Nursing has paved the way for nursing education throughout the state of Texas for nearly 130 years.
We are so grateful for this support, and we are excited for its current and future impact. These gifts go far beyond the individual students who benefit; they also help us fulfill our mission to develop an outstanding health care workforce and deliver care that improves lives.
Will you support UTMB School of Nursing Honors Program? Learn how here.