BSN Capstone Students Apply Knowledge to Help their Community in COVID Crisis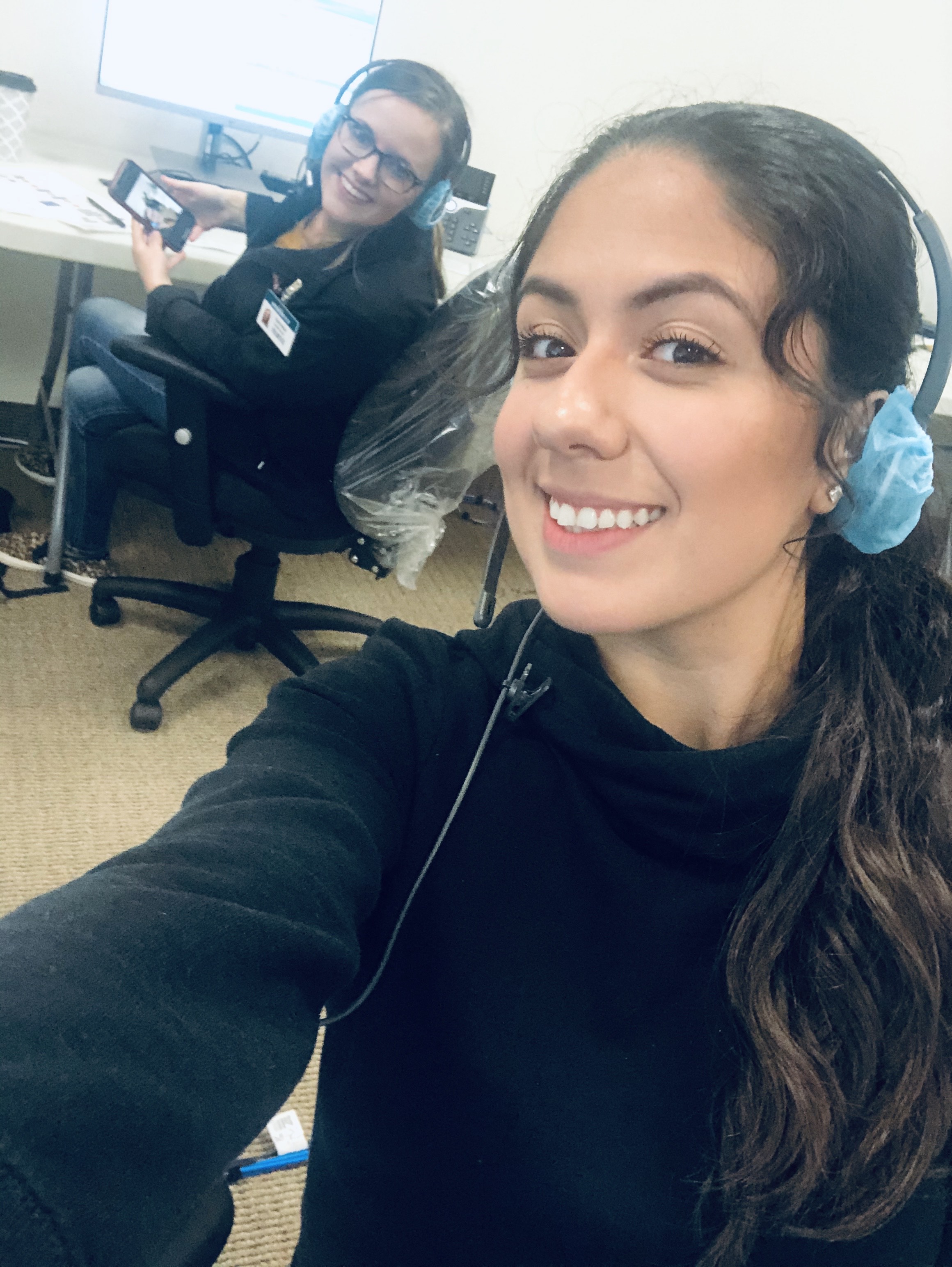 Leslie Garcia, in front, and Sharina Mears were among the approximately 50 student volunteers.
When the call to help at a COVID-19 screening center came to UTMB School of Nursing, our students answered in the spirit of service - exactly as their nursing school training has prepared them.
Dr. Rebeka Watson Campbell, Clinical Capstone course director, saw an excellent opportunity for BSN Capstone students to get involved in an emergency response endeavor. After an application and vetting process, about 50 senior-level students were selected and trained to provide telephone screening services at the call center organized by Harris Health.
Within days, the students were actively involved in prioritizing and scheduling patients for testing according to their reported exposure and symptoms - thus preventing a first-come, first-serve process, and ensuring testing based on need, Dr. Watson Campbell said.
So far, the students have volunteered nearly 800 hours. Their efforts have benefited patients seeking testing, health care institutions administering tests and the students themselves, as they have been able to apply their education in the real world.
It was a great opportunity for us as students to utilize our skills and be able to offer support to the community during a time of crisis, student Sharina Mears said.
Her classmate Leslie Garcia concurred. Most of the patients I spoke to thanked me for guiding them through the COVID-19 assessment, she said. It felt good giving back to the community.
It was great to know that I was able to help people find some answers during this vulnerable time, student Helen Le said.
The opportunity enabled our students to demonstrate their adaptability to the ever-changing health care landscape and gain valuable experience serving in a crisis - experience that will serve them well in their future careers.
Each semester, Capstone students support their community through opportunities like Tall Ships, ARTober Fest and Dickens on the Strand. In the spring, Capstone students worked with UTMB and the Galveston County Health District to conduct two major disaster simulations.
These volunteer opportunities are instrumental in helping to mold our students into professional nurses and integral parts of our community, Dr. Watson Campbell said.